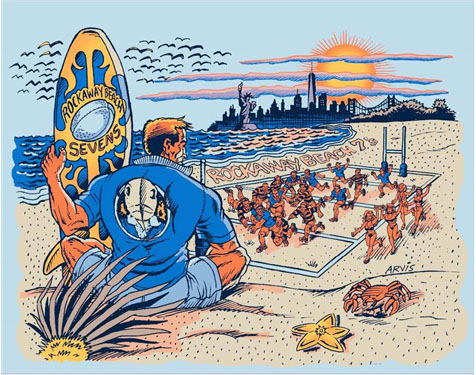 Sat. June 13th, 2020
2020 Registration
NYC's Premier Summer 7's Tournament
Empire GU Series Host Site
Divisions: Men, Women, H.S. Boys & H.S. Girls
* Pool Play (Cup, Plate, Bowl & Sheild)
Andrew Israel Memorial Trophy
* Pool Play (U14 & U12; depends on # of teams)
Fisheads Social 7's Trophy
* 2 Divisions (This registration is seperate from the Empire GU Series and will be played on a dedicated Smaller field)
Send entry fee via Paypal to: AND USE OUR SIGNUP FORM
$350. *entry fee per team (Before June 1st)
$375. *entry fee per team (After June 1st)
$275. *High School Fee Per team Deadline Friday, May 21st, 2020
Entry fee by check or money order: Payable to: Rockaway Rugby Fisheads Club
Mailing address: Rockaway Beach Rugby 7's 533 B126th Street, Suite #301, Rockaway, NY 11694
Call or text Pat 347-922-8109 with any questions.
Awards Presentation @ the field after Finals.
Event Information:
Campsite Lodging: Floyd Bennett Field, Brooklyn, Ny (1.2 Miles Away From Pitch (Click Here)
Food Concession provided by Rockaway Little League (at their clubhouse)
Medical Services Provided by On-Site Medical Staff:
Downstate Medical Hospital ~ Dr. Bill Urban & Staff
Off-Site Medical Facility: Bayview Urgent Care ~ 115-05 Beach Channel Drive Rockaway Beach, NY 11694 ~ 718-474-7755
Medical Transportation: FDNY (located 100 feet from the Flagpole Field; See Map)
Fields Maintained by Gateway National Park Service
Parking Area: No Charge
Beach Access: No Charge
E-Mail: Pat Steffens: or Lou Maiocco: … with any questions.
Thank You, The Fisheads